fr:Tio'ta:ke~ Là où les courants se rencontrent~Where The Currents Meet(1) est une invitation à approfondir, par des approches relationnelles et écosomatiques, les significations incarnées, personnelles et vivantes, que peuvent prendre la reconnaissance des eaux et des territoires sur l'île de Tio'ta:ke. Le projet convie une douzaines d'artistes ayant une pratique en lien avec le mouvement, la voix ou l'art-nature. Cette recherche prend une forme sciemment émergente et participative et rassemble une diversité d'artistes habitant Tio'ta:ke ou l'archipel d'Hochelaga et qui ont tout.e.s déjà collaboré avec au moins l'un.e des participant.e.s. Sur une période de 5 mois, chaque artiste sera invité.e à des rencontres in situ, avec l'eau et le territoire, avec soi et avec d'autres humains et plus qu'humains, et ce, via des marches contemplatives et une rencontre mensuelle d'exploration collective. À chaque rassemblement mensuel, un repas traditionnel confectionné par une artiste autochtone et une collaboratrice, avec des légumes ayant poussé sur l'île ou l'archipel sera servi, contribuant au processus artistique, éco somatique et relationnel du projet. L'ensemble des rencontres se tiendront dehors et nous prendrons soin de respecter toutes les mesures sanitaires. Sedalia Fazio, une ainée Kanien'kehà:ka originaire de Kanawake, officiera l'ouverture et la clôture du processus. Cette phase exploratoire sera documentée via quelques enregistrements sonores et vidéo, et servira à réfléchir aux bases d'un futur projet de vidéo danse, en 12 capsules – une par saison- et qui seront tournées en 2022, d'ouest en est -dans le sens du courant-.
en: Tio'ta:ke~Là où Les courants se rencontrent ~ Where The Currents Meet (2) is an invitation to deepen and embody, through relational and eco-somatic approaches, what the land and water acknowledgment can mean to a diversity of artists living on the island of Tio'ta:ke. This research takes a consciously emerging and participatory form and brings together a dozen of artists, with a practice related to movement, voice, or land-art. Over a period of 4- 6 months, each artist will be invited to in situ encounters, with water and land, with oneself and with other humans and more-than-humans, via contemplative walks and a monthly meeting of collective exploration. At each of the monthly gatherings, a light meal made with locally grown vegetables will be served, interweaving with the artistic process of relating to the island and archipelago we live on. The project will occur outdoors and will respect all covid related measures. A kanien'kehà:ka elder and several indigenous artists will be part of the process and will officiate the opening and closing of this time of exploration. This exploratory phase will be documented via some sound and video recordings, and will serve to reflect based on a future video dance project, in 12 capsules -one per season- to be filmed on the island of Tio'ta:ke, in summer 2022, from west to east – down the stream.
(1) Deux traductions possibles en Français et Anglais, du terme Kanien'ke:ha pour Tio'ta:ke, colonialement baptisée Montréal au moment de la colonisation.
(2) Two possible translations, in French and in English of the Kanien'ke:ha word for Tio'ta:ke, named Montréal by the colonizers.
Gathering 1 – au sud (Sanctuaires aux Oiseaux, Lasalle)
Gathering 2 – à l'Ouest (L'Anse à l'Orme, Senneville)
Gathering 3 Au Nord (Ahuntsic – Sault au Récollet)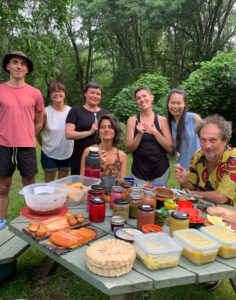 Gathering 4 à l'Est (Pointe aux trembles, parc du bout de l'Ile)